Watchdogs are cracking down after discovering Lanistar is not FCA approved

Update: On November 20, The FCA released the following statement:
"Following the FCA receiving a number of consumer reports, on Wednesday 18 November we issued a consumer warning against Lanistar. Today, the firm agreed to add an appropriate disclaimer to its marketing materials updating its regulatory status to confirm that it is not conducting regulated activities.
"The firm is also going to amend certain aspects of its website. On that basis we have removed the consumer warning.
The firm has confirmed it is in a pre-launch process. We will be working with the firm closely ahead of their launch."
The original story was as follows:

Lanistar, an upcoming UK fintech company, has been banned from operating in the UK. The Financial Conduct Authority said that Lanister had been "providing financial services or products in the UK without our authorisation" after the company entered into a partnership with Mastercard this year.
Lanistar was aiming its products at millennials and Gen Z, and according to documents seen by InChief, even offered content creators and influencers stock options in the company (so they would own a small part of the business and in theory, earn money from that small ownership). However the FCA concluded that the company was operating in the UK without the required permissions, which would make all the company's offerings null and void.
Christina Watson, CEO of InChief, said, "It's really disappointing to see this type of activity happening and demonstrates the need for influencers to be astutely checking everything they sign. Influencers and creators largely work alone, and our InChief community gives members the benefit of peer support, but also legal advice with their free consultation from Brandsmiths. Unfortunately, creators need to be so careful these days, but InChief is here to support them."
InChief member Shadia Daho was almost caught out by the offer, but wisely used her InChief membership to consult the team. ""This development has highlighted why it's so great to be part of a community. We can use the network of InChief not have to work totally alone. Being a member of InChief means we can get contracts checked, and we need this now more than ever"
Lanistar made the following statement: "Legal and regulatory compliance are central to Lanistar's business and we confirm that we are not providing financial services or products without the FCA's authorisation. We will be partnering with firms that are authorised by the FCA to provide financial services or products. We are in the process of contacting the FCA to clarify the position and will be requesting that the notice is removed."
The company also seemingly paid influencers and content creators to promote the product, which isn't out of the ordinary (and is actually pretty good social media marketing) and the creators and influencers involved were of course not to know that the company had not been given proper approval.
The product offering from Lanistar was a super secure method of payment technology, allegedly, which the company itself claimed was "A polymorphic bank card for those who know influence is the only currency that matters" and seem to be directly aiming themselves at content creators, with implied claims that Lanistar can keep their money super safe. Here's a screengrab from their website: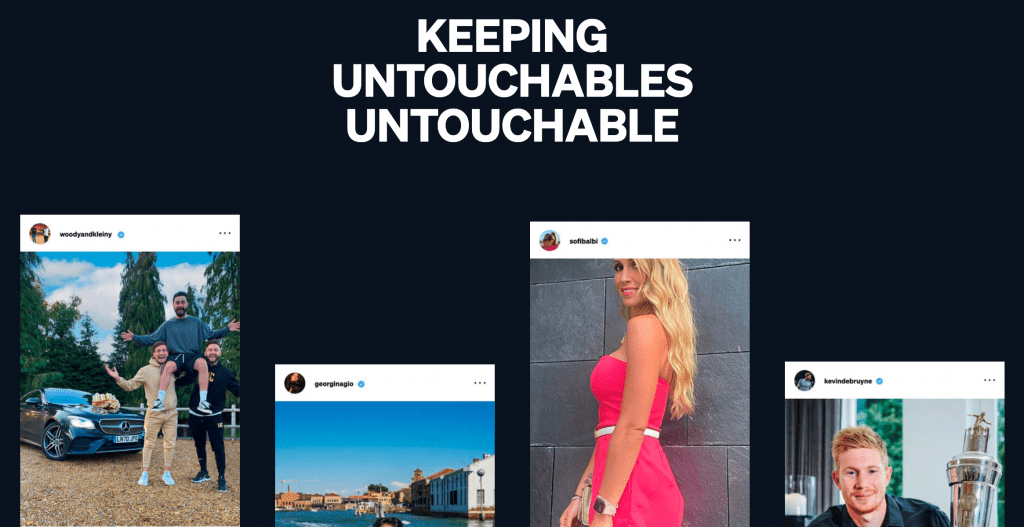 It's incredibly easy for creators or influencers to be duped by an offering such as this, especially as most creators work alone and have to act as their own HR team, legal team and finance team (as well as their own designer, copywriter, social media manager and all the other jobs that content creation includes!).
By signing up to InChief you will receive complimentary legal advice in an initial consultation from our partner, Brandsmiths, who can do anything from checking over contracts to screening some posts for potential defamation or legal holes. All contracts should be read closely as you never know what's hiding in the small print, and all unknown companies should be thoroughly researched. It would be exceptionally difficult for any individual to uncover that a company is operating without the proper approval it needs, so this is where the collaboration from a legal team would really make the difference.
Join InChief today and keep dodgy contracts at bay! Yeah that was cheesy, but who doesn't love a rhyme?