While 2020 in its entirety has been heavy, the summer months added stress to Black people everywhere after the murder of George Floyd.
The BLM (Black Lives Matter) movement was originally started as a hashtag in 2013 after the death of Black teenager Trayvon Martin as a result of police brutality. #BLM was in constant use once again after the killing of Mr Floyd, and people of all ethnicities and from hundreds of cities marched on behalf of the movement and the fight for justice.
Support of the Black Lives Matter movement resulted in conversations which had only ever been had behind closed doors being brought into the forefront of all media types.
Conversations surrounding diversity, race and minority experiences were spotlit, and as a result many Black activists and content creators found themselves sharing content to educate their non-Black friends and colleagues. Many content creators shared their stories on social media – letting wider audiences know how they had been underpaid in comparison to their white counterparts, and in some cases not paid at all.
Talent agent Adesuwa Ajayi created the page Influencer Pay Gap in June 2020, and amassed over 30,000 followers in the space of a month – influencers of colour began to share their experiences and Ajayi was inundated with DMs asking for advice.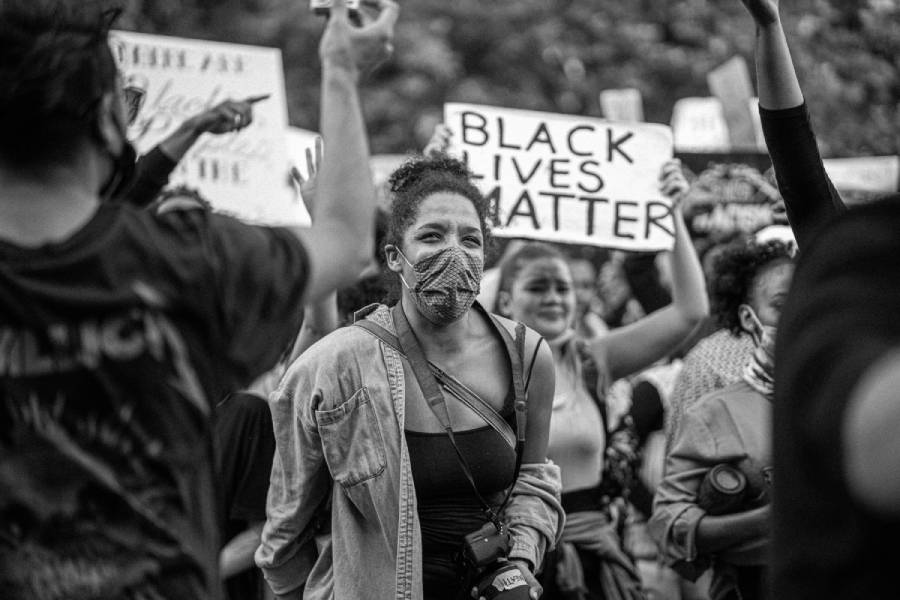 Simultaneously, Black content creators were gaining followers rapidly in support of BLM and many Black content creators were able to reach bigger audiences than ever with their content and consequential activism.
But as the summer months passed, the levels of engagement when it came to Black activism dwindled; brands and non-Black influencers who had been seen to be previously visibly engaged in conversations surrounding Black lives came to a halt.
I was keen to speak to Black content creators and activists who over the summer gained followers as a result of the movement, and are now facing a lag in engagement.
I spoke to Francisca Rockey, Diversity Advocate, Alicia Lartey, Skincare influencer and Yossy Akinsanya, Content Creator and Photographer. All three gained thousands of followers over the summer due to the movement and their individual activism.
How did you get into activism, and what do you advocate for?
Alicia: I advocate for Black people trying new skincare that's not just shea butter, and also for acne positivity. I started both because I struggled to see imagery of people that looked like me. Acne is not commonly spoken about in the Black community and often seen as an indication of ill health, which is not the case.

Francisca: I think I've always had it in me. I remember doing sponsored silences for Children in Need, volunteering for Muslim Aid and various other organisations and charities from a young age.
I advocate for diversity and political and social reform. I want all spaces to be diverse, particularly my discipline, which is geography and geosciences. In April, I started an organisation to advocate for Black Geographers and to campaign for our visibility in the subject. I never expected it to receive the reception it did but I'm really proud of it and I'm excited for the next year and what we have planned.
Yossy: I'd say when I went to university? I think that's when I actually started becoming really aware of everything going on around me as I was quite blind to it all. I had done a lot in terms of charity work growing up, like Tearfund's Mean Bean Challenge, raising money for homeless people and the typical cake sale but in terms of actually speaking up and trying to do my part that really sparked within me this year. With things like racial inequality, you just can't ignore the elephant in the room anymore. There are so many issues that affect me personally, my family, my friends and seeing and hearing their experiences is enough to wake you up and make you realise that you have a part to play in sparking change.
What's changed for you over the last 6 months in terms of your engagement levels and content?
Alicia: I used to have an average engagement of 14%, I now have half of that. I didn't shoot up in numbers as much as other bloggers did, but I now carry so much dead weight.
Yossy: Yes. A lot of us now are experiencing the same thing where people have stopped engaging with Black content creators as much as they did over the summer. So, we have these high numbers in terms of following but not the engagement to back it up.
Francisca: My engagement? Shot up! I was getting THOUSANDS of views on my BLM content and I posted a few infographics on my feed, but it got to a point where non-Black people were coming to my page for education and it got too much, so I had to "reclaim" my feed.
I went from 1500 followers to 2284, I had been trying to get to 2000 for months and it took BLM for me to get there? I'm disappointed that it took racism for my work to be seen but that's the world we live in now.
Yossy: In May I want to say I was on 4k followers, begging people to help me get to 5k by the end of the year. But then the BLM movement really came with force and for once I took to my platform to do my bit in raising awareness. I was one of the content creators lucky enough to benefit from accolades from my peers during the height of the movement, and now have 16k followers. As a freelance photographer it's helped put me in the eyes of some of the right people and has led to me landing new work which I'm so grateful for. It's also helped me grow my jewellery brand and sell out.

I'm grateful for it but, it's sad that it took loads of us calling people out to finally have a light shone on us.
How do you maintain engagement while shifting between activism content and more lighthearted posts?
Alicia: I'm not focused on maintaining anyone who found me solely as a means to absolve themselves of racial bias. I do not reward saviourism and my space is not for people with those values.
Francisca: I mix it up. I speak about the things I advocate for and social issues that are important to me, but I also post light-hearted content like book reviews, places that I'm going to eat and photos of myself.
Yossy: Well, my numbers have already dropped since the BLM conversations have slowed, and people have gotten comfortable again since posting their black square. I've realised that some of the people that joined me over the last few months genuinely love my content, which feels amazing because that's all I want, and others came to do performative allyship.

I'm focusing on just putting out content that I enjoy because it can be very easy to get swept up in the numbers game, which takes away the joy I find in creating. I've made it clear on my platform that if there's an issue that needs addressing then I will always bring it up, no matter what. It's not all everyday aesthetics, sometimes let's talk about what's going on in the world right now and how we can actively play our part.
How do you manage your mental health while actively using social media?

Alicia: Sometimes I have to disappear… I am honestly still working on this
Francisca: I don't, or should I say I didn't? Until Tianna Johnson (founder of Black Girls Camping Trip) drilled it into me that I can't do my work if I'm not alive. I dedicate Sundays to self-care, but I always find myself checking my emails because I don't want to miss opportunities or ignore students asking for our help and services. Finding a balance is difficult, but I'm working on it.
Yossy: Sometimes I take breaks. I sit on Netflix and apps like TikTok where everything is light-hearted and silly. It can be really overwhelming, with something new happening in the news every day. Balancing content creating with a full-time job is a lot.
Any tips for future activists?
Yossy: I think people don't realise the power that speaking up really has. You don't need 1 million followers to be an advocate for change. I think the events of this year have shown people the power of supporting others' work, e.g. local businesses, campaigns and movements. This is the start of change. We have been asking for racial equality for centuries but something about BLM in the UK particularly felt different. I feel like it sparked something in me to fight harder and to keep fighting.
How can we tackle performative actions within the industry?
Yossy: Call people out. In the words of the great Jackie Aina, it's either "you pull up or shut up". Keep raising your voices too, because it seems like when we shout people want to listen. Hire Black people, put your money where your mouth is. So many people were quick to say "we see you, we hear you" but then aren't willing to pay us for our time and effort. It's not just on us to do this, non-Black people need to call out their friends and family who are being performative, because sometimes I think people don't like when it comes from our mouths.
What do you envision your platform will look like in 2021?
Alicia: As my page grows, I hope to get more people on board with my message and create a space of knowledge and fun!

Yossy: 2021? I'm really trying to serve unfiltered, PURE black girl joy as I feel like a lot of the time I've held a lot of my blackness back and not just online, in workspaces, at events and I hate that. I hate that I constantly worry what people will think of me, whether I'll fit the stereotypes they have of me in their head. Being Black is beautiful, our culture is beautiful and if you don't like it, I couldn't care less anymore, it's not my life you're going to be sucking the joy out of anymore.
—
Follow Alicia on Instagram and Twitter

Follow Francisca on Instagram and Twitter
Follow Yossy on Instagram