When people ask what I do for a living, I'm tempted to tell them that I spend my days chatting sh*t. To be honest, it wouldn't be too far from the truth: I'm a full time blogger and run A Balanced Belly, a blog I initially set up to share my journey with Crohn's Disease – an autoimmune disease of the digestive tract-gut health and multiple intolerances.
When we hear about bloggers who work full-time, the niches of beauty and fashion often dominate the conversation. However, I'm part of a growing number of people who turn the camera on themselves to talk about their life with a chronic illness instead. It may not be as glamorous as a #fashionblogger but creating content around my illness has not only helped me to come to terms with the reality of living with a long-term condition, but given me both a job and a support network.
How I started my blog
It's not something I could have ever predicted when I started my blog way back in 2012. Back then, I'd just been diagnosed with Crohn's Disease and was living abroad in a country where I couldn't speak the language; away from all my family and friends. Tentatively, I took to the internet to find advice and when I couldn't find it, I decided to create a blog about my own experiences in the hope I could reach out to others going through the same thing.
Like most bloggers, at the beginning my readership was just my family and a few bots but it soon began to grow. My readers became followers and some even friends. The kind of people I could text: 'Have you tried this medication?' or 'Is this normal?' in the middle of the night. My blog allowed me to connect with fellow patients, which when living in an unfamiliar environment away from home was everything to me. I really don't think I'd be in the place I am today with my mental health if it wasn't for this support network.
Although my readership grew, I never anticipated blogging could become a job for me. I was used to seeing advertisements for beauty products on my feed but I felt disconnected from the glamorous influencers I saw on my feed.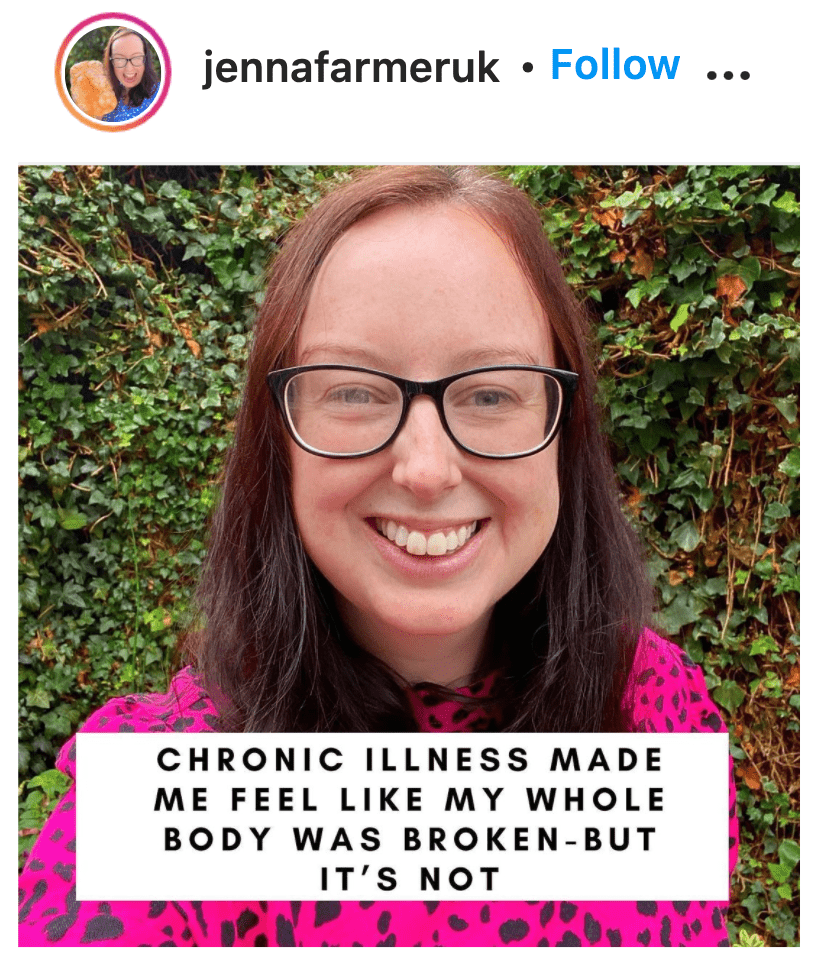 How I earn money from my content
I struggled to fit both my blog and health condition around my teaching job. I felt as if in the long-term, being a teacher was just incompatible with Crohn's Disease, and I decided to throw all my energies into my blog instead.
So how does someone like me make money from blogging? Well, actually, there are lots of ways. There's fifteen million people currently living in the UK with a long-term health condition so we certainly have a captive audience!
As the years have gone by, many brands are slowly changing their advertising tactics: they've started to realise that there's a whole generation of young people with chronic conditions who are turning to social media and blogs for advice. While I'm selective with the brands I work with, I've partnered with everyone from Domestos (after all, who knows loo cleaner better than someone who uses it a lot) to gluten-free food brands and even high street chain Boots.
In turn, influencer campaigns are slowly becoming more diverse – just because you blog about life with a chronic illness doesn't necessarily limit you to working with healthcare brands. For example, the brand MissGuided recently worked with fellow IBD blogger @uc.mamma in their advertising campaign; who looked amazing modelling their clothing with her ostomy bag on full display.
Follower count is less important here than lots of other blogging niches, because the lived experience of those of us with chronic conditions are invaluable. Some bloggers also help health brands with their market research and social media while others, like me, write freelance. I've written about my condition for places such as Metro Online, The Telegraph and Happiful magazine.
Finally, I also make money through passive income. Thanks to the power of SEO, I'm able to work with Mediavine (a company who places advertisements on my site).I hope the fact that I'm in a very different niche shows bloggers that you don't have to focus on the more popular niches to make money. In fact one of my most-read posts is about sauerkraut; it brings in thousands of views a month and makes me money every single day. As part of working with Mediavine, I actually visited Google headquarters in February-another bucket list item ticket off!
It's not just about finance, it's a lot about friendship
As well as making friendships with fellow patients, I've made some amazing online friendships with fellow bloggers too. A few years back, I took over Chronic Illness Bloggers, a supportive community for those of us who blog about our health and it's grown to around 800 bloggers. We offer advice and share each other's content to help us all reach as many people as possible with our message.
While life with Crohn's Disease can be incredibly tough, I can honestly say that it has given me a purpose. I spent much of my 20s trying to figure out what I was meant to do and my 30s realising I was meant to help people with the content I write. Of course, if I could choose not to have the disease I would do so in a heartbeat but it has given me my dream career and some very dear friends.
If you're reading this and considering blogging about your health then go for it! Not only could it help you form real connections with people all around the world but it may even turn into a job for you too.
Follow Jenna on Instagram here and check out her blog here.