Instagram have just given even more clout to their pushes into eCommerce and Reels, by giving them both new tabs on the Instagram homescreen.
The push towards Reels isn't a huge surprise, as since TikTok exploded in popularity this year Instagram have seemingly been keen to add a similar offering – and honestly, most of the Reels seem to be TikTok videos uploaded onto Instagram for the time being. The shopping push, however, is further cementing the platform's reliance on eCommerce as a revenue stream.
The Coronavirus pandemic (sorry, no way of not mentioning it) has seen advertisers pull their spend from many platforms as consumers are purchasing less. Jobs have been made redundant, and those who've stayed in employment have largely received pay cuts. Fashion shows are cancelled, and there are no events or social gatherings for people to attend. This all spells a grim time for advertising revenue, and the big social platforms all seem to be moving towards eCommerce as a new focus.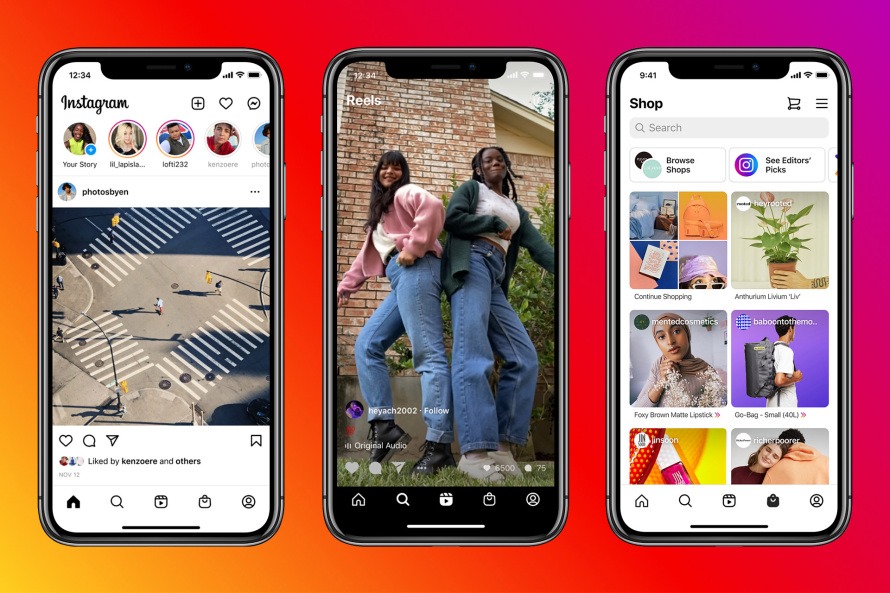 Instagram said: "This year, with the pandemic and much of the world sheltering in place, we've seen an explosion in short, entertaining videos on Instagram. We've also seen an incredible amount of shopping move online, with more and more people buying online and young people looking to their favorite creators for recommendations on what to buy.
"We don't take these changes lightly — we haven't updated Instagram's home screen in a big way for quite a while. But how people create and enjoy culture has changed, and the biggest risk to Instagram is not that we change too fast, but that we don't change and become irrelevant. We're excited about the new design and believe it gives the app a much-needed refresh, while staying true to our core value of simplicity."
The transactions will all take place on the Instagram platform itself, allowing people to spend more time in the app as well as providing a cut of revenue to Instagram if they make a purchase from shoppable content. This is likely to result in the algorithm prioritising shoppable videos for a while, as they both keep people engaged with Instagram and make money.
The update could be a great move for small businesses and independent retailer, and comes after WhatsApp introduced a shopping functionality for their Business accounts, YouTube implemented more commerce opportunities, TikTok partnered with Shopify and Instagram added commerce to IGTV.
Are there any platforms left that don't provide commerce opportunities?