The link in your Instagram bio is one of the most important tools for any content creator to drive more engagement from and give a more in-depth offering to their audience.
With only one link on Instagram available (and very slim chances that Instagram will enable links in the comments), it's crucial that your audience are given a clean, clear and engaging screen when they tap through to find out more about your content.
'Link in bio' tools are generally built to drive clicks through to a variety of different content on a website or other platform. This can work if you're posting recipes, store products, links to articles, video teasers – anything. A link in bio tool enables you to work around the Instagram offering of only one clickable link and offer multiple links to your audience – almost as if each post you publish has its own individual link.
So which link in bio tool is the best? Well it depends what you're looking for, but In Chief has a few recommendations. There are heaps of tools available and the 3 below are our ultimate edit. They all offer analytics, are customisable, and have a clean user experience. If it's not featured, it's not In Chief recommended. None of the brands featured have paid us to appear here, this is purely editorial recommendations.
We think these 3 link in bio tools are the best on offer, after considering the multitude of options available. 
The actual link in bio replicates an Instagram feed of square images for your audience, and each image is clickable. This is a great option if you're selling product as it has an integration with Shopify, allowing you to make your replica feed shoppable without having to get official approval from Instagram – although Instagram's commerce ability requirements recently changed and it's a lot easier to qualify now.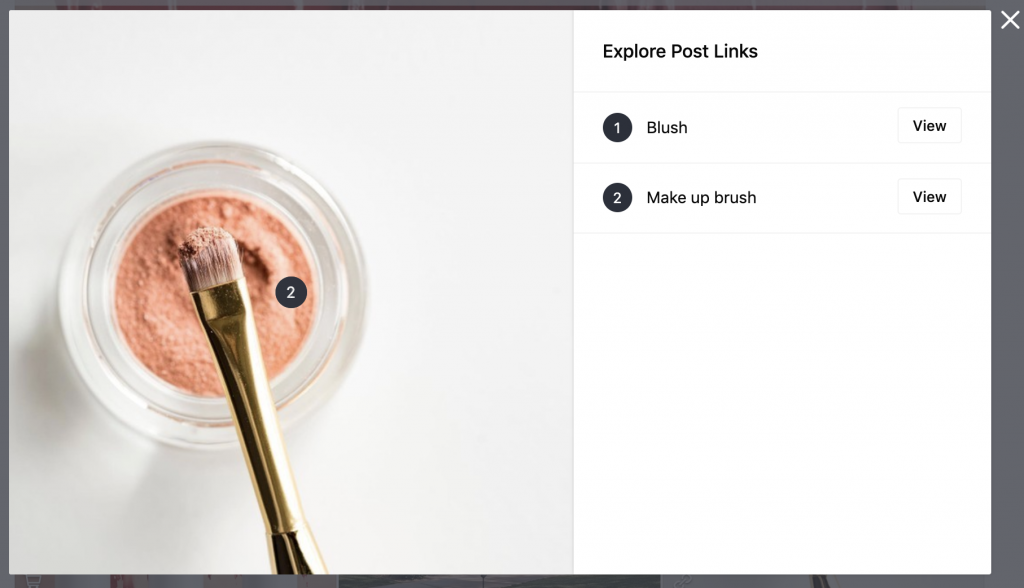 The analytics allow you to see the revenue made from each shoppable post as well as the click-throughs you got, and Later.com has a scheduling tool which works for everything; posts with or without links in bio, additional shoppable links, stories, and stories with links in (if you're already Instagram approved).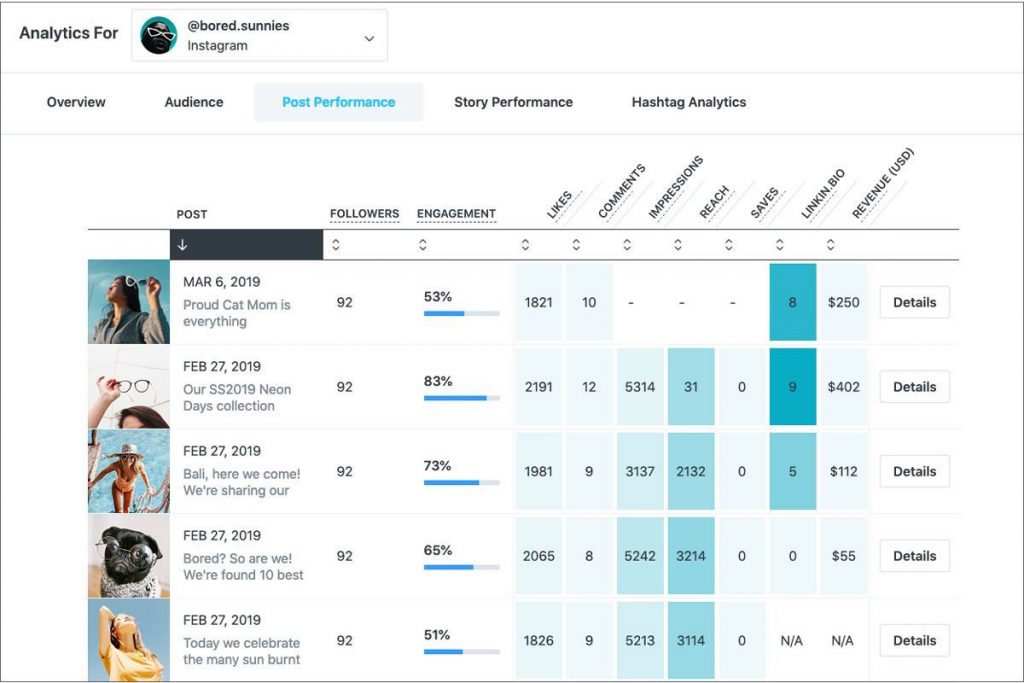 This clever option works with Facebook Pixels so you can retarget your audience who have clicked on your links, and can be easily integrated into Google Analytics (although you can add campaign UTMs onto your links to track them anyhow).
The display upon a click through to this link in bio tool allows you to keep a number of more permanent links at the top of the page, and have a clickable replica feed below, as they've demonstrated here with a rather charming shoppable feed for doggy bow ties.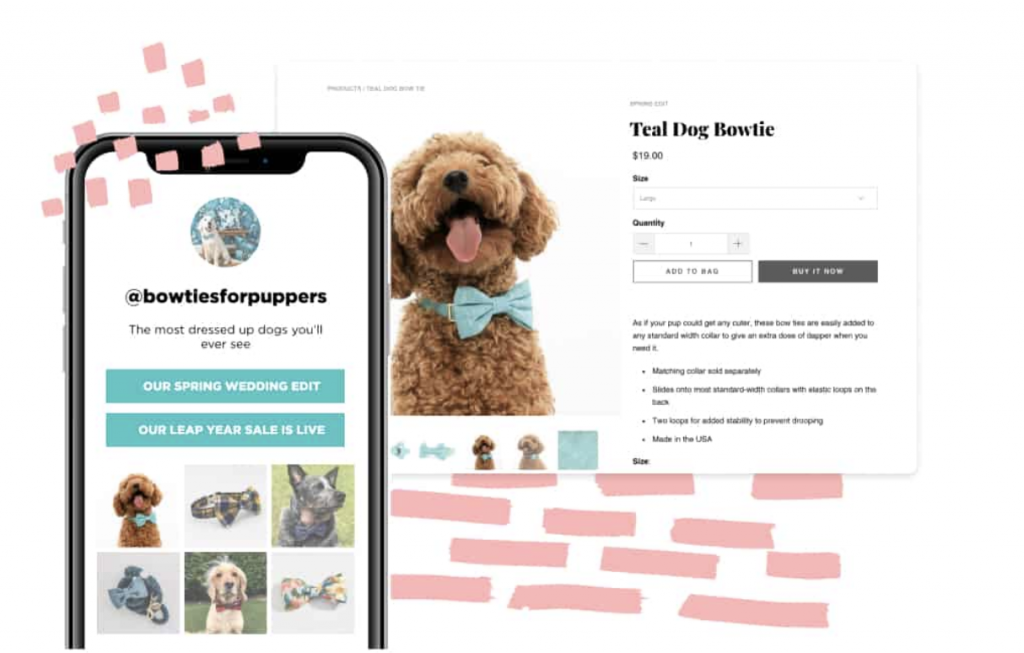 You do have to pay for this service, but one of the paid-for options gives you 2 years of data from your Facebook and Instagram pages, as well as highly useful competitor analysis. Oooh. It's really a very slick tool.
This is pricey so would not be worth looking at if you don't have a budget to spend on super-sophisticated tools, but hooo-wee is it worth the money. The insights this tool gives you are sensational. It's worth being aware of this tool as a creator, too, as bigger brands and companies may be using it to track their Return On Investment (ROI) for campaigns they've run with people like you.
You can track how many clicks / users you sent to anyone you tagged anywhere on your posts, and the Estimated Marketing Value (EMV) which that number represents (!). You can segment your content into different categories so that you get an overview of what works for different style of posting – useful as we don't all constantly post about the same thing. There's also the ability to make posts shoppable and track clicks, sales and revenue.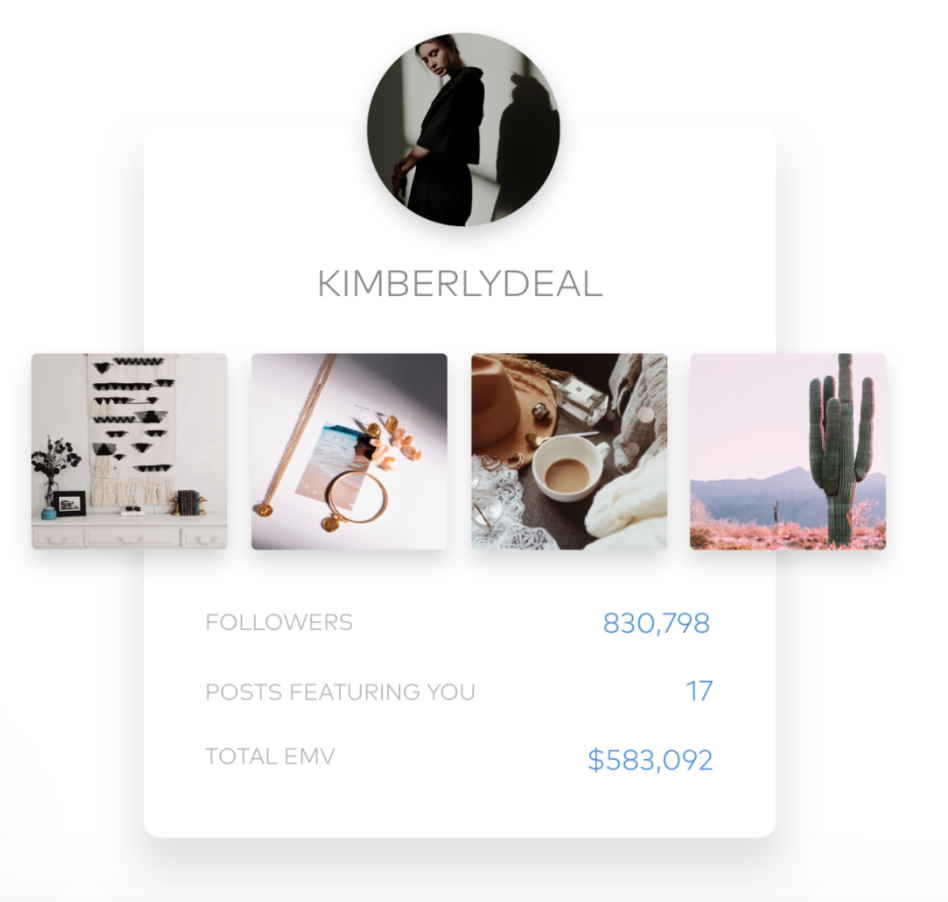 You can ALSO source the most popular UGC that features or mentions you, and the robust analytics (some of the most in-depth and actionable we've ever seen) allow you to easily figure out what your audience wants before they even know they want it. One of the most impressive functions that Dash Hudson offers is visual scanning and content recognition of your posts; so the tool can figure out that posts with 'blue skies' or 'dog faces' etc perform the best.
They offer a free trial for a week if you're keen to get a taste of the analytical joy, and we'd advise you to go for the trial when you've got a busy week of posting or campaigns planned.